Get $1000 in FREE Cloud Services from Veeam® & DYONYX

Now is the time to extend Availability to the Cloud, to ensure your business remains Always-On™! Veeam® & DYONYX are providing a simple and cost-effective way for customers to try backup and disaster recovery in the Cloud.
The Offer
If you are currently a valued Veeam customer, you can NOW activate Cloud backup and DRaaS in minutes, through an unprecedented special offer — for a limited time, get up to $1,000 in FREE cloud services. 
Who We Are: 
DYONYX, a 20-year trusted advisor in the IT industry, can guide you through the process. We have been providing comme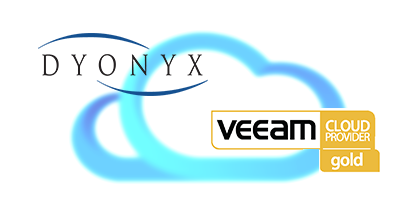 rcial and government clients with managed IT and cloud services and more.  
Let's Get Started
3 simple steps to redeem the $1000: 
1. See if you're eligible by contacting us via phone, email or chat. 
Call us: 713-485-7000
Email us: solutions@dyonyx.com
Chat with us: www.dyonyx.com - "Live Chat" in lower right corner of screen

All we need is your first and last name, company and email address. 
2. If you're eligible, you'll receive an activation code in your email. 
3. After you receive the code, call or email us with the code and we will get you signed up for your $1,000 in FREE cloud services!